Words on Writing, Housecleaning, and Life
Publication Date  Harper Perennial, a division of HarperCollins ~ April, 2008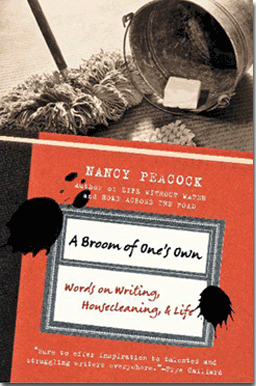 As the author of two novels, Nancy Peacock was used to seeing her name in print.
However, she didn't expect her name to be in The National Enquirer, along with the headline: "Here's One for the Books: Cleaning Lady is an Acclaimed Author." After she got over the shock of seeing herself depicted as a "writing maid," she knew she had to write about it.
In the essays that make up A Broom of One's Own, Peacock explores what it means to be a writer, and provides advice on subjects such as inspiration, craft, and criticism. Through hilarious anecdotes about the houses she cleans, Peacock also offers insight into issues of class and stereotypes, and describes how her job affects her acceptance of herself as a writer. With its warmth and wit, A Broom of One's Own is an encouragement to all artists–however they make a living.
Purchase
Amazon
Barnes and Noble
Books-a-Million
Indie-Bound
iBooks
Advance Praise for A Broom of One's Own
"Nancy Peacock has written an instant classic, filled with wisdom, humor and insight. Her radical observations on class, gender, and literature make this one of the most original and valuable books about writing ever published."
Lee Smith, author of On Agate Hill
"A Broom of One's Own is a book that embraces the wisdom of uncertainty, common sense, humor, and simplicity, a book that is written with a clarity that is inspirational. Nancy Peacock's words ring true and real. If you write, have a place to live, and hope to be more alive than your surroundings seem to allow, then you'll love this book."
Clyde Edgerton, author of Lunch at the Piccadilly. Visit ClydeEdgerton.com
"A Broom of One's Own is one of the most honest books I've ever read, by one of the most honest writers I know. It's as if Nancy Peacock scrubbed her way down to where people (including herself) really live, and found in the simple business of housecleaning, clues to what's   most important in our lives, whether we're writers or just folks. It's a funny, wise, poignant journey with mops and buckets, pen and paper."
Robert Inman, author of Captain Saturday. Visit Robert-Inman.com
"Leading a double life as a writer and professional house cleaner Nancy Peacock brings new meaning to the words, soap opera. Her accounts of lowly battles with dust bunnies and bathtub rings soar into wry meditations on the writing life, the dignity of manual labor, and the poignant human stories that emerge from the dust and detritus of other peoples' houses and lives."
Henry Wiencek, author of The Hairstons
"After reading this inspiring collection of essays, I wanted to clear out every closet, mop every floor, and get to my desk to write. Nancy Peacock shows it like it is, in unadorned, powerful prose that mirrors her sturdy beliefs. Those who hire house cleaners should read this book to learn how not to behave. And we can all learn, in these never-preachy stories, how to live with more integrity and less stuff."
Carol Henderson, author of Losing Malcolm: A Mother's Journey Through Grief
"Nancy Peacock's book is sure to offer inspiration to talented and struggling writers everywhere and more than that, to anyone who has ever chased a dream while trying to hang onto who they really are. Peacock writes with honesty and heart, with a stylish simplicity that's ironic and wry and right on the money."
Frye Gaillard, author of Cradle of Freedom: Alabama and the Movement that
Changed America
"Witty, wise, and wickedly honest. A Broom of One's Own sweeps away pretension about the writer's life. This is an entertaining and heartening romp through the daily life of a successful working writer. And incidentally, it will teach you all you'll ever want to know about how much your housecleaner knows about you!"
Pat Schneider, author of Writing Alone and With Others